The brisk acceleration and refined handling of the Mazda MX-5 Miatahas long been a draw for fun-loving drivers around Cleveland, Bedford, and Lorain. If you're interested in learning more about this roadster's performance and fuel economy, consider reading our Mazda MX-5 MiataMPG and performance guide.
In the coming sections, we'll be exploring traits like the MPG, horsepower, torque, and any additional performance characteristics that help this sedan dazzle drivers. Finally, you can always schedule your own test drive by contacting Montrose Mazda of Cleveland!
MPG for the Mazda MX-5 Miata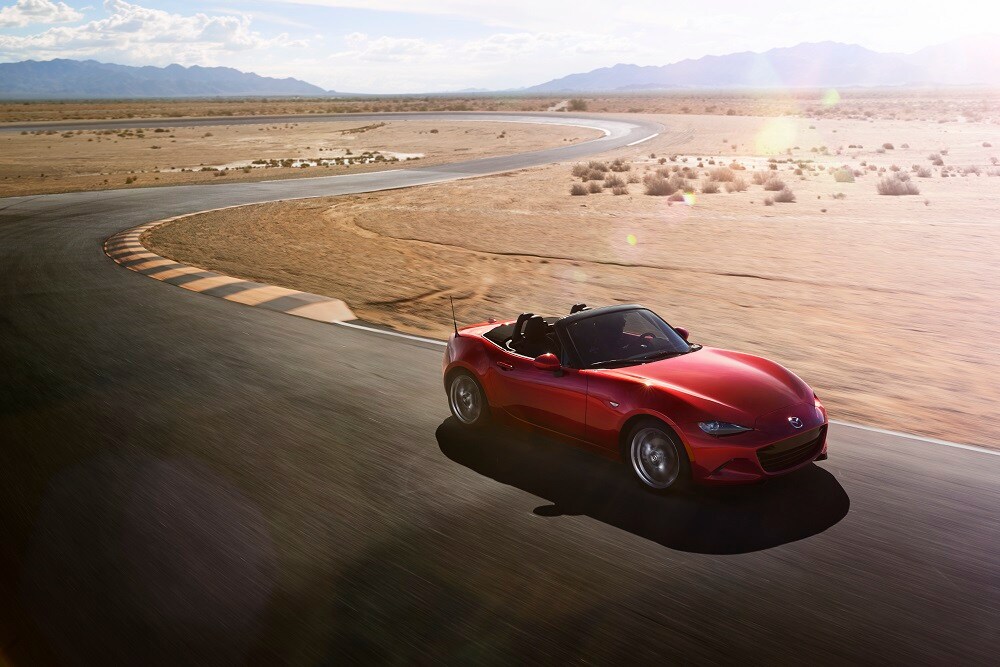 When outfitted with the automatic transmission, the fuel economy of the Mazda MX-5 Miata reaches an EPA-estimated 26 city MPG/35 highway MPG.1 There's only the slightest drop-off if you instead go for the manual transmission, with the EPA-estimated fuel economy then measuring 26 city MPG/34 highway MPG.1
Other fuel economy systems of note include the electronically controlled fuel injection system, a distributor-less ignition system, an aluminum alloy engine block, and aluminum alloy cylinder head.
Engine Specifications
The lightweight MX-5 Miata showcases dazzling acceleration and handling to go with a bristling top-end speed and most of this production comes from underneath the hood.
The sole engine option in this desirable sports car is a doozy. A 2.0L DOHC 16-valve 4-cylinder delivers a biting 181 horsepower to go with 151 lb-ft of torque.
If you decide you want an involved driving experience where you serve as the main cog, then you'll enjoy the 6-speed manual transmission accompanied by the short-throw shifter.
For a more laidback experience behind the wheel, you can instead opt for the 6-speed sport automatic transmission with paddle shifters. The paddle shifters are a key addition to this silky-smooth transmission. They allow you to actively switch gears if you feel the urge, and if you prefer to let the automatic transmission do its thing, that's equally possible.
Exterior Performance Features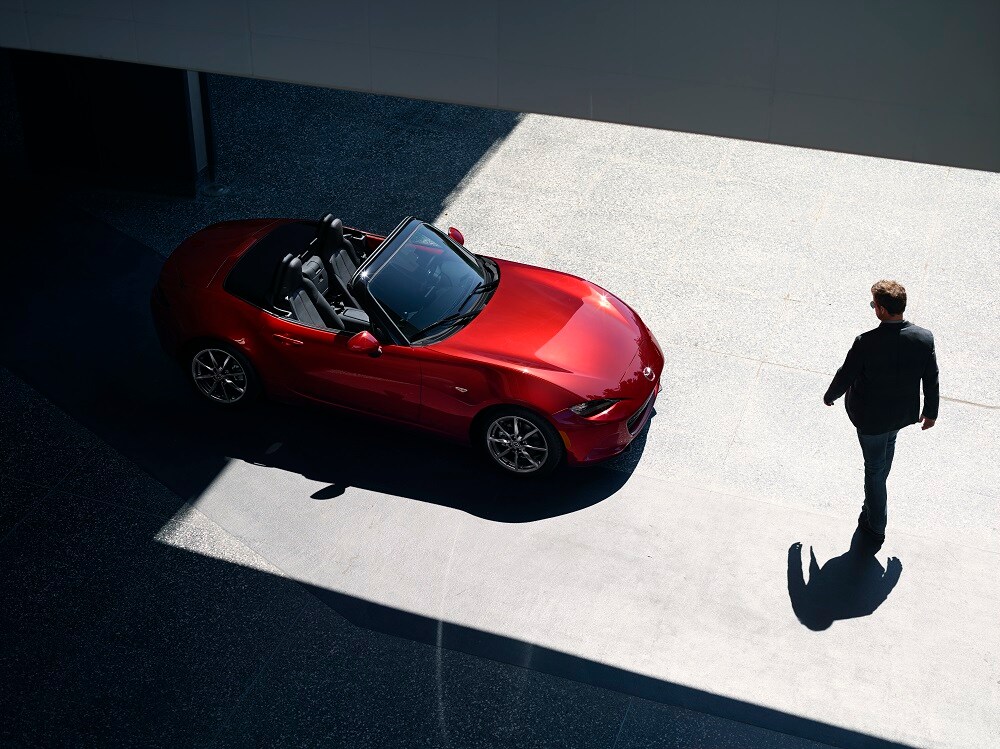 Performance is so engrained in the Mazda MX-5 Miata that the exterior shape supersedes aesthetic value and proceeds to enhance handling, acceleration, and maneuverability at all speeds.
This is possibly largely because of the expertly carved lines and indentations that are visible on the hood of this car as well as along the sides. These lines, as well as the accompanying bulges and curves, actively redirect the wind as you approach top speed. This redirection reduces turbulence, lessens drag, and also increases handling responsiveness, so you feel more intertwined with the car.
This unique shaping and reduction in wind turbulence will also help save fuel since your Mazda MX-5 Miata won't have to struggle very much to maintain momentum through strong gusts. To learn more about the MX-5 Miata, read our review.
Test Out the Mazda MX-5 Miata MPG & Performance
When trying to understand the performance and terrific fuel economy of the Mazda MX-5 Miata, you can consider features and specifications all day or you can take a test drive and get a tangible understanding of this fabled vehicle.
If you prefer the latter, contact Montrose Mazda of Cleveland and you'll soon be zipping around Cleveland, Bedford, and Lorain!
1 EPA-estimated mileage. Actual results will vary.